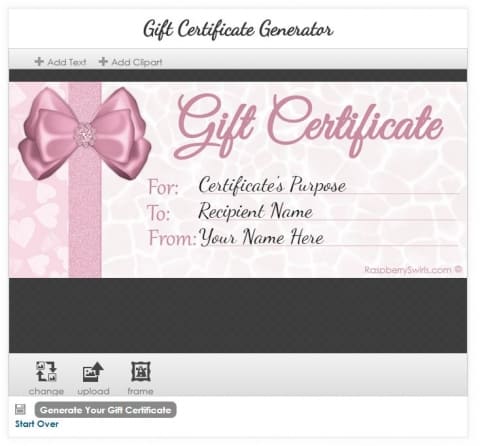 The free online Gift Certificate Generator is a quick and convenient way to quickly create a gift certificate. The generated image is perfect for sending via email or posting onto the recipient's Facebook page.
Not only can you create a customized, personalized gift certificate online, you can control virtually every aspect of your certificate. Add text, clipart, even upload your own photos.
The gift certificate is available in 3"x7" size, at 72 or 96 dpi (depending on your device's screen resolution).
Use one of our 30+ existing gift certificate templates and designs, create your own background, or upload your own image or photo.
Begin with the editable recipe card template and click on the text fields to begin editing or move them around. You can even add more text, clipart, and images.
When you've finished using the gift certificate generator to create your custom gift certificate, click on the "Generate My Gift Certificate" button at the bottom.
eGift Certificate Generator
edit
font
style
change
upload
frame
brightness
contrast
filter
delete
bring front
move back
flip
shadow
opacity
color fill
stroke
Your browser doesn't support html5 canvas. Please upgrade your browser to a more recent one!
Change Background

Change the background of your gift certificate by selecting the Change option.

Upload Photo

Use your personal photos as background by selecting the Upload option.

Add Text

Add text to your gift certificate by selecting the Add Text option on the toolbar.

Add Clipart

You can add custom clipart to your gift certificate by selecting the Add Clipart option on the toolbar.

Download Your Recipe Card

Generate and Download your creation by selecting the Generate Your Gift Certificate button at the bottom of the toolbar.


Alternatively, if you'd prefer to download high resolution 300 dpi versions of the gift certificate templates used in the Gift Certificate Generator to edit offline on your own computer, visit Gift Certificates