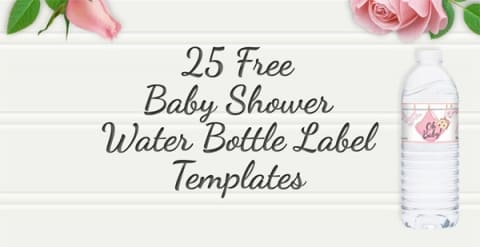 Scroll to the bottom of this page to use the Baby Shower Water Bottle Label Maker and view some pre-made templates that are ready for you to edit online and download for free.
We've assembled 25 of our favorite baby shower printable water bottle labels that you can edit online. Start from scratch to create your own unique personalized label or select a template below to begin. Using the free water bottle label maker, you can create endless combinations of designs to match your theme.
Change the background to match your party's theme, add patterns (and change the pattern colors), outlines, shadows or clipart (over 500 images to choose from); then add text to finish your custom baby shower water bottle wraps.
And you are not just limited to creating custom printed baby shower water bottles. Create custom personalized labels for soda cans, candle votives, and as a decorative accent for just about any other favors. You can even use the labels as bag toppers; just add an extra two inches to the top of the label, then fold over and staple onto bags.
These printable labels can be printed on standard, matte or gloss printer paper. If you want to print multiple custom water labels at once, after downloading your image, paste the image into a text editor such as Word. Five water bottle label images fit onto a standard sized printer paper. Affix custom bottle labels to the bottles applying adhesive spray to the back of your personalized water bottle labels, or tape the ends of the labels together using double-sided tape. If you want the water bottle labels to be somewhat waterproof, place clear shipping tape over the label then apply to the bottles, or purchase waterproof label sheets (links below). We haven't tested the waterproof label sheets, so we're not sure if you also need to use waterproof ink (but it would make sense).
There is also a listing of supplies you will need at the bottom of this page.
The label is created at 2550 by 600 pixels. This will result in a printed high resolution image of 8 1/2 inches by 2 inches.
When you've finished using the Water Bottles Label Maker to create your custom baby shower label, click on the "Generate Label" button on the top right of the editor.
Supplies: What You Might Need
Waterproof Labels
Water Bottle Label Maker
Background Options
change
brightness
upload
frame
contrast
filter
Clipart Options
Text Options
edit
font
style
delete
bring front
move back
flip
shadow
opacity
color fill
stroke
Your browser doesn't support html5 canvas. Please upgrade your browser to a more recent one!


If a new window containing your generated image doesn't open after clicking the button above, you may need to set your browser to allow pop-ups from raspberryswirls.com
Don't Forget!
Change Background

Change the background of your label by selecting the Change option.

Add Text

Add text to your label by selecting the Add Text option on the toolbar.

Add Clipart

You can add clipart to your label by selecting the Add Clipart option on the toolbar.

Download Your Invitation

Generate and Download your creation by selecting the Generate Your Label button at the top of the toolbar.
25 Baby Shower Water Bottle Label Templates
Here are some templates to get you started. Click on one to load it in the editor then change colors, text, clipart to meet your preferences. The possibilities are endless.