The free (always free!) online envite Invitation Generator is a quick and convenient way to quickly create wedding invitations. Not only can you create a customized, personalized invitation online, you can control virtually every aspect of your invitation. Add text, clipart (500 images to choose from), even upload your own photos as a background. All the features and images are free to use; no trial periods, upgrade fees or extra costs for "premium" features.
You can also download one of our existing wedding invitation templates and designs, create your own background, or upload your own image or photo.
If you're not feeling particularly creative, use from one of our pre-designed templates at the bottom of this page.Add additional clipart that coordinates with your wedding's color theme.
The invitation is available at 2100 pixels by 1500 pixel, to be printed in 5″x7″ size.
The Wedding Invitation Generator works great with our pre-designed invitations available on our site; simply add text and clipart to create your own custom personalized wedding invitation.
Begin with the editable invitation template and click on the text fields to begin editing or move them around. You can even add more text, clipart, and images.
When you've finished using the invitation generator to create your custom invitation, click on the "Generate Invitation" button on the top right of the editor.
Additionally, you can resize your image if you are making RSVP cards.
Alternatively, if you'd prefer to download pre-designed high resolution 300 dpi versions of invitations to edit offline on your own computer, visit Cards and Invitations
envite Invitation Generator
Background Options
change
upload
frame
brightness
contrast
filter
Clipart Options
Text Options
edit
font
style
delete
bring front
move back
flip
shadow
opacity
color fill
stroke
Your browser doesn't support html5 canvas. Please upgrade your browser to a more recent one!


If a new window containing your generated image doesn't open after clicking the button above, you may need to set your browser to allow pop-ups from raspberryswirls.com
Don't Forget!
Change Background

Change the background of your invitation by selecting the Change option.

Upload Photo

Use your personal photos as background by selecting the Upload option.

Add Text

Add text to your invitation by selecting the Add Text option on the toolbar.

Add Clipart

You can add clipart to your invitation by selecting the Add Clipart option on the toolbar.

Download Your Invitation

Generate and Download your creation by selecting the Generate Your Invitation button at the top of the toolbar.
Wedding Invitation, RSVP, Bridal Shower, and Table Templates
Here are some templates to get you started. Click on one to load it in the editor then change colors, text, clipart to meet your preferences. The possibilities are endless.

Eucalyptus Greenery Wedding Invitation Template
Peacock Wedding Invitation Template
Rustic Mason Jar Wedding Invitation Template
This template is ink-intensive, so we suggest saving money on ink by having these printed off at your local print shop.
Greenery Wreath Wedding Invitation Template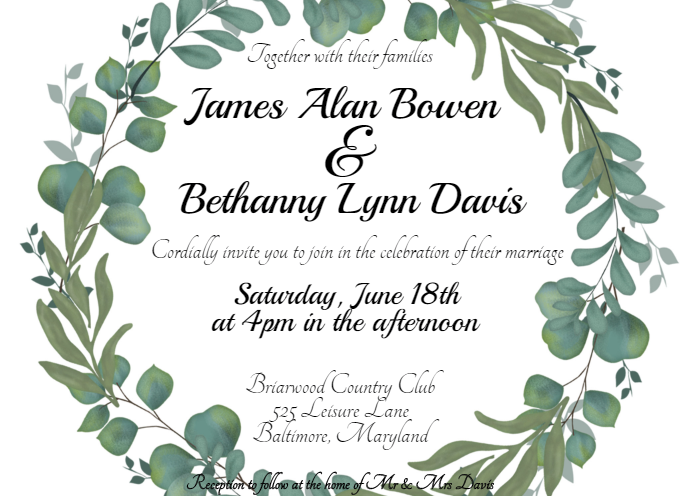 Floral Wedding Table Number Template
Bohemian Greenery Wedding Invitation Template
Floral Romance Wedding Invitation Template
Eucalyptus Greenery With Red Wedding Invitation Template
This template is an example of how you can customize the colors of an invitation by adding clipart to match your wedding's color scheme. Add a pale gray frame border to make cutting easier.
Vintage Romance Wedding Invitation Template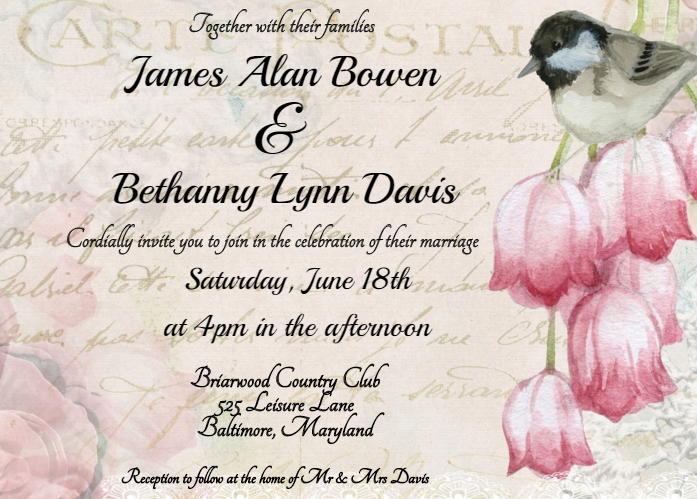 Burlap and Lace Country Wedding Invitation Template
Champagne Shimmer Wedding Invitation Template
A glam wedding invitation template to highlight an elegant evening wedding.