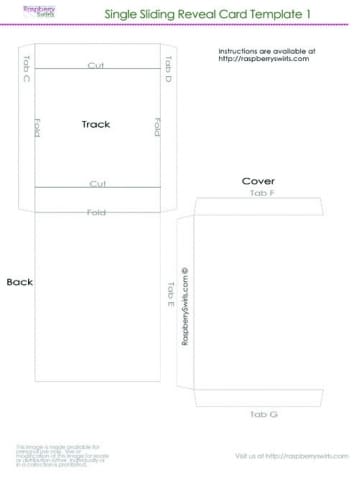 Sliding reveal cards are a fun way to give a card or a gift.   Use sliding reveal cards to send a surprise message, present money or a gift card (or tickets, Red Box redemption codes, etc).     They are much easier to assemble than double sliding cards.  The slider mechanism are just two slits inside the holder that keep the insert aligned and prevent the insert from being completely removed.
This template is blank.  You can decorate it using photo or image editing software before printing, or print it out and decorate it afterward using stamps or scrapbooking embellishments.  You can even recycle greeting cards to use as embellishments.  
Instructions
Download and print out both template image files included in the zip file.
Cut out the Insert, Cover and Back/Track. 
Back/Track

Using an X-ACTO knife or craft knife, cut the two lines on the Track.
Score the 5 tabs at the fold line and fold them downward.
Score and fold the center line of the Back/Track cutout over the Track's tabs.
Open the

Back/Track and u

sing a glue stick or double-sided tape, affix Tabs C and D to the inside and press closed.

Insert

Cut the lines above Tab 1 and Tab 2 on the Insert.
Slide Tabs 1 and 2 into the cut slits of the Track.  Test how well the Insert slides up and down on the Track.  If the Insert doesn't slide easily, make the tab cuts a little longer.

Cover
 

Score and fold all three tabs on the Cover downward.
Position the Back/Track with attached Insert face down on the inside the Cover.  Then fold the 3 Cover tabs over the 

Back/Track.

Using a glue stick or double-sided tape, affix Tab E so that it overlaps the bottom of the Back
Using a glue stick or double-sided tape, affix Tabs F and G

 so that they overlap each side 

the Back.
File Download